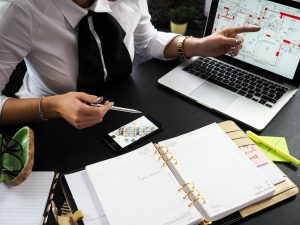 As the days start to turn slightly warmer and the snow finally begins to melt away, the Cincinnati housing market will begin to heat up. As in most places across the country, spring is one of the most popular times of year to sell or buy a home, which means it's also a great time to look at real-estate trends and what we are likely to see in this year's hottest buying season. Here are a few things we can expect both nationwide and in Cincinnati this year.
1. A slow start to the spring buying season
The new tax bill signed by President Trump last December will likely have an effect on how many sales are made early in the spring season. People will probably be taking a close look at their finances and doing their research to ensure the best course of action for them and their money given the new tax bill.
2. Increases in Homeownership
Despite low inventory levels across the country, home ownership numbers are increasing. According to Trulia, Q4 2017 was the fourth quarter in a row where the number of new homeowners was higher than the number of renters nationwide. In addition, Trulia research shows that many of those homeowners are millennials, which is a great sign that the real-estate market has finally begun to bounce back from the Great Recession. However, this same data also shows that more and more millennials are moving away from the city to the suburbs to find a better deal on a home. Increasing numbers of millennials may move to Cincinnati in 2018, given the area's cheap prices and a high likelihood for home value appreciation
3. Prices continuing to slowly rise
Case Shiller data from October 2017 show that prices have climbed consistently over the past two years. In addition, the index shows that home prices increased 5.92 percent between January and October of last year. However, despite price growth, a recent article by Forbes names Cincinnati as one of "America's Most Affordable Cities." A December article published by Realtor.com, "The Hottest Real Estate Markets of 2017: Who Gained Big, Who Fell Hard", also indicated Cincinnati as one of the country's hottest real-estate markets for 2017. In the article's list of the country's 300 largest markets, Cincinnati jumped from a previous ranking of 117 to a ranking of 64. Economists speculate that this is likely due to the affordability of Cincinnati homes. Unlike most places in the country, there are still great homes available in Cincinnati in almost every price range. The current average listing price of a home for sale in Cincinnati is $156,000—a modest 4 percent increase over last year. Thus, although cheaper than most other metro areas, Cincinnati is following the same pattern of price appreciation.
In conclusion, despite what is likely to be a slow start to the buying season, it is clear that there will be plenty of movement in the Cincinnati market in 2018, and we may even see an influx of millennials and other first-time homebuyers moving to the city in search of a more affordable home.