There are many great neighborhoods in Cincinnati in which to begin your search for a new condo. Each offers a variety of homes, amenities, and perks to living there. Some of the most popular are Oakley, Over-the-Rhine, and Hyde Park.
Hyde Park is located in East Cincinnati and is one of the most popular areas in the city for aspiring owners of condos and single-family homes alike. The area also has a very healthy mix of starter/midsize and trade-up homes as well as a wide variety of condos. The area is very walkable and its proximity to Hyde Park Square, a trendy shopping and dining area, makes it popular with a wide range of people. Some of the area's most well-known and sought-after condo complexes are  Grassmoor, Georgian Terrace, Madison House and Regency. Prices for condos currently selling in Cincinnati's Hyde Park range from $107,000 all the way up to $1.5 million. So you can be sure you'll find a home that fits your needs. There are a few properties, however, that really stand out for their great features and affordable price points. The listing at 3744 Ashworth Drive is one such gem.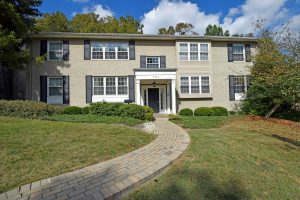 This condo for sale in Hyde Park is located within the Chestnut Station condo complex. This large, 3-bedroom, 2-and-a-half-bathroom unit provides excellent value for its listing price of $315,000. Located just down the street from the Hyde Park Golf and Country Club, this home features a loft, granite countertops, and hardwood floors. With its open floor plan and 1,700 square feet, you'll enjoy having plenty of space, whether for entertaining or staying in for movie night. There's plenty to walk to in East Hyde Park.  Start with breakfast at Coffee Emporium.  Still hungry? Take in a lunch at Bangkok Bistro.  Drinks at Hap's Irish Pub?  Need some essentials?  Stop in Tischbein's Pharmacy.  Forbe's Magazine named Hyde Park one of the 10 best neighborhoods in the USA.
If you've been looking for condos for sale in Hyde Park and are interested in checking out this home or any of the many others that we have currently on the market, give the team here at Cincinnati Condo Connection a call. We would love to help you begin the journey to find your dream home today.