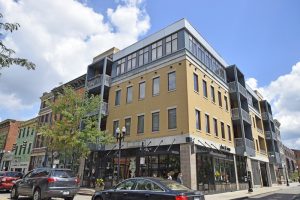 There are many beautiful, affordable homes on the market in Cincinnati. With each neighborhood providing a unique culture and great amenities there is something for every potential home-buyer.
Over-the-Rhine, one of Cincinnati's most popular and historic neighborhoods, is no exception. The area is home to some of the city's best restaurants: The Mercer, Pleasantry, Sartre and French Crust, as well as, Washington and Ziegler Park. The recently installed streetcar connects Over-the-Rhine to both the city's business district and riverfront neighborhoods. Most homes for sale in the area are recently upgraded condos with lofts that range from $200,000 all the way up to $550,000.
Homes for sale in Over-the-Rhine are known for being slightly more expensive than other Cincinnati neighborhoods. The current, average listing price is $324,950. However, given the area's growth over the last 20 years, as well as proximity to dining, shopping and nightlife, a home or condo for sale in Over-the-Rhine is almost guaranteed to be a great investment. In fact, Zillow predicts that home values will grow at least 3.7 percent over the next year.
One such listing is the home at 1326 Vine Street B, in the Trinity Flats condo complex. Natural lighting fills this open concept, two bedroom, one bathroom condo with a built-in loft. Chic wood flooring, updated appliances and granite countertops, make this home perfect Cincinnati professional or young family. In addition, The Trinity Flats building offers a rooftop resident deck, and onsite shopping and dining. This home is also only a 10-minute walk from Findlay Market. Findlay Market is a trendy spot that that is known and beloved by locals as the best place in the city to buy locally sourced goods. Currently listed at $279,000, this property provides excellent value for the interested condo buyer.
Are you interested in purchasing a condo in Over-the-Rhine this year? Check out our listings page to view all of our available properties.