Selling a condo is very different from selling a house.  Make sure you work with an agent that understands and sells a lot of condominiums. Get recommendations from your neighbors or management of the building.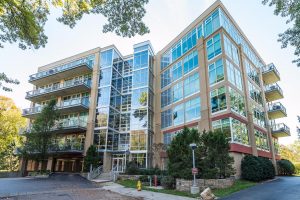 Pricing
Condos in many buildings have a wide variety of prices.  Some of the factors that affect the price are location in the building.  In a high rise, the higher the more expensive.  Corner units also sell for higher prices than interior units.  The view also matters.  The premium for a better view can sometimes be 100% or more.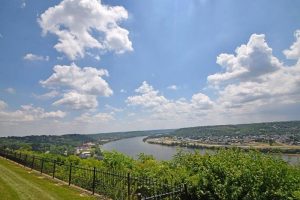 Seasonality
Condos in Cincinnati sell year round.  They don't follow the typical spring cycle, mainly because it's rare for family's to purchase a condo in this city.  It's typically a single person or a couple.  Many empty nesters start looking at condos when their last child graduates from college Or when  they feel they are no longer able to live in their house . This can happen suddenly.  They often have encouragement from other family members to make this move.  Showings pick up around the holidays when adult children are home to help their parents find a condo.
Staging
Condos tend to be smaller than houses and many empty nester buyers who are moving from a large home worry about fitting their belongings into a condo.  Empty condos look small.  I recommend staging empty condos for many reasons but mainly because people can see that they can fit their king size bed, two night stands and dresser in the seemingly small bedroom of a condo.  The other benefit to staging a condo is that it takes the buyer's eye away from the flaws.  They tend to see the view and the furniture rather than the dated parquet floor or worn kitchen appliances.  A good stager will have on trend colors and new stylish furniture. Developers, builders and flippers all stage homes because they know staging yields a better price and a quicker sale.  See this condo at The Ingleside that has been staged.It was on the market for 6 months as an empty condo.  It went under contract in one week after staging.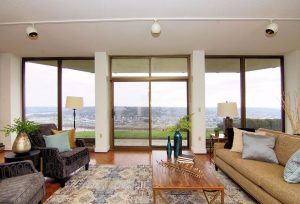 The Building
Make sure that you have a realtor that understands the building. It's best if you can get a realtor that not only knows the building but will be present for all showings.  There's a lot to know about each building or community and you don't want the selling agent who doesn't understand your building fumbling around trying to find the party room or your parking spaces.  You want someone who can speak confidently about the amenities, the culture, the location and the financial health of the building. My team and I focus on condos and are familiar with all of the urban buildings in Cincinnati.
HOA Docs and Financials
Make sure that your realtor has current HOA documents and all amendments as well as financial statements for the building.  They will need the current budget, a recent balance statement and an income statement.  A copy of the rules and regulations is important to have too.  You don't want to get a contract and then have the buyer find out that their 60 lb dog is not allowed in the building. Provide them with meeting minutes too. Many potential buyers want to know what the hot issues are in the building. You may also want to provide information about past special assessment and the history of the monthly HOA payment increases.
Photography
Make sure you have professional photography and that the common areas are shown.  If there is a pool or a gym, you will want to have those photographed too. If it's winter, a good realtor that is familiar with your building will likely have photos of the pool from previous listings. For luxury condos or condos with great views consider doing a drone video to really show off the view and surroundings.
Days on Market
Condo buyers are a bit more deliberative than a house buyer.  Most will be very thorough in their evaluation of the building and the unit. In the last six months of 2017, condos in Cincinnati averaged 69 days on the market compared to single family houses which averaged 43 days on the market. Pricing the house right is the best way to beat the averages.
Advertising and Marketing
Many buildings do not allow signage so make sure that your realtor not only puts the condo on MLS but has a complete marketing plan to sell the condo.  Open houses are great for condos and usually attract a lot of people.  Make sure your realtor is willing to host open houses until it's sold. Consider a dedicated website for your condo.
Financing
Financing a condo is more complicated than financing a house.  You and your realtor will want to line up a mortgage officer that does a lot of condos.  Not all condo mortgages can be sold on the secondary market. Other condos that have storefronts or restaurants are considered mixed use buildings and many lenders will not underwrite mortgages on those buildings.  The Edgecliff Private Residences, The Regency and many condos in OTR (Over-the-Rhine) are mixed use.