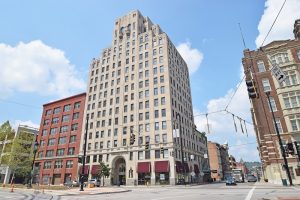 With the ever-growing popularity of HGTV shows like Flip or Flop and Fixer Upper, home flipping as a source of income is becoming more and more popular. While for some, it can be a great and lucrative investment; home flipping is not for everyone. Interested in flipping a home or condo in downtown Cincinnati? Check out the following tips to help you get the most bang for your buck.
1. Understand the home flipping market and the costs involved
Presently, the home flipping market in the United States is a saturated one. Atom Data Solutions' Q2 2017 U.S Home Flipping Report, showed a home flipping rate of 5.6% of all home sales during the quarter and a gross flipping profit of $67,516. Inventory is tight nationwide, which makes flipping anywhere a tough investment. Before buying a home, make sure that you have done your research on the area in which you are purchasing. Check multiple sources to see what comparable properties are renting or selling for, and gauge the level of necessary repairs around those numbers.
The importance of understanding the growth potential of the neighborhood in which you are purchasing cannot be understated. For instance, a condo for sale in Over-The-Rhine may be more expensive and need fewer repairs than one in Oakley. However, given the rate in which home prices in Over-The-Rhine have grown in the last 20 years, a condo flipping project in that area is likely to be the better investment.
2. Be Wary of Costly Repairs
Allow your research to inform which repairs you undertake on your newly acquired property. While research shows that an upgraded kitchen and bathroom are large selling points on most homes, they are also the most costly upgrades, given that typically they will require plumbing work. Although some costs will vary by market. According to HomeAdvisor, the average kitchen repair will cost anywhere from $4,000 to $50,000. While the average bathroom repair ranges from $2,500 up to $23,749.
3. Work with the right contractor and construction team
Do your homework to find the best, most reliable contractor for the job. Check references, look at past projects and thoroughly interview everyone you bring on your team. The right contractor can also be a great sounding board for cost – effective re-model ideas but, be careful not to overdo it. Choose a few, impactful repairs that will help you to improve the value of the home without paying an arm and a leg and, do your own repairs where you can. The best way to save money on a home improvement project is to do-it-yourself.
Although the house flipping market is a saturated one, it is possible to make a decent profit given the right tools. Here at Cincinnati Condo Connection, we have condos for sale in a variety of price ranges, some of which may be a great flipping investment. Contact us today to begin your own project!