More and more people are moving to Cincinnati every day and looking for available homes in a wide range of styles and budgets. For some potential buyers, quiet streets to raise their kids is extremely important, while for others, it is far more important to be near the hustle and bustle of downtown Cincinnati.
Here at Cincinnati Condo Connection, we work with a wide mixture of potential home buyers and sellers every day. However, when young home buyers want to purchase their first condo in Cincinnati, we find that we are recommending a few particular neighborhoods more than others. One of those special neighborhoods is Oakley.
Oakley is a picturesque neighborhood in northern Cincinnati that is known for its walkability, trendy shops, and amazing restaurants that are only a few blocks from the ever-popular Hyde Park Square (the center of Cincinnati's boutique shopping). Located just a few miles from downtown, this neighborhood is an excellent area for all potential home buyers and also for those seeking a condo for sale in Oakley. Due to  pedestrian-friendly streets and short commute time to downtown Cincinnati, it is especially popular with professionals and young families.
The houses for sale in Oakley vary from starter homes and midsize trade-ups to condos of all shapes and sizes. With so many options in homes, potential buyers may wonder what kind of bang for their buck they can get with a condo for sale in Oakley.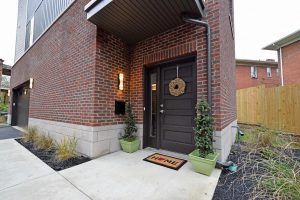 The property located at 2932 Markbreit Ave is a perfect example. This three-bedroom, three-bath home is currently listed at $699,900—a great deal higher than the average listing price for a home in Oakley, which is currently around $265,000. The bells and whistles that come with this home, however, definitely provide a great bang for your buck. Not only is this home a detached, three-story unit, it features almost $55,000 dollars in custom upgrades. Some of these upgrades include granite countertops, walk-in closets, and a rooftop deck.
If you're interested in this property or another condo for sale in Oakley this year, make sure to check out our listings page to view all of our available properties, and then contact Maria Walley today to get started!